The New Thor Bebe WP5G Bench Top D/W
Superior Performance – Superior Value
Don't like washing up by hand, but find that a full-sized dishwasher takes too long to fill or is just too big for your needs?
Then we have got you covered with the
versatile Thor Bebe WP5G bench top dishwasher!
Perfect for small kitchens, holiday homes, offices, caravans or even the boat, this cleverly designed space-saver is about the size of a microwave. The Thor Bebe is designed to be installed on the kitchen bench, and can be easily attached to a kitchen tap by using the tap adaptor.
Using as little as 8.5 litres of water per cycle and costing around .50c per load for  electricity, this handy little machine has the following features:
4 place settings (35 pieces) per load, with max plate size 27cm
Electronic controls
Stainless steel interior and spray arm
Easily refillable rinse aid dispenser on door
Residual drying
Two temperature settings
Safety interlock door mechanism
Double walls prevent heat loss and minimise noise
Delay start timer
Double overflow control mechanism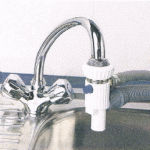 The Optional Tap Adaptor is snap-on/snap-off for easy connection to your kitchen tap, and is designed to fit most modern taps on the market.
If you are looking for a dishwashing solution that doesn't require plumbing into your water mains, purchasing this handy extra will provide you that solution, and make the Thor Bebe WP5G dishwasher fully portable.
Call now for the latest prices on 1300 651 503 or use our Contact Us page to send an enquiry today!